The Future of Inventory Management
Manage your inventory with

astonishing

ease and

unprecedented

accuracy.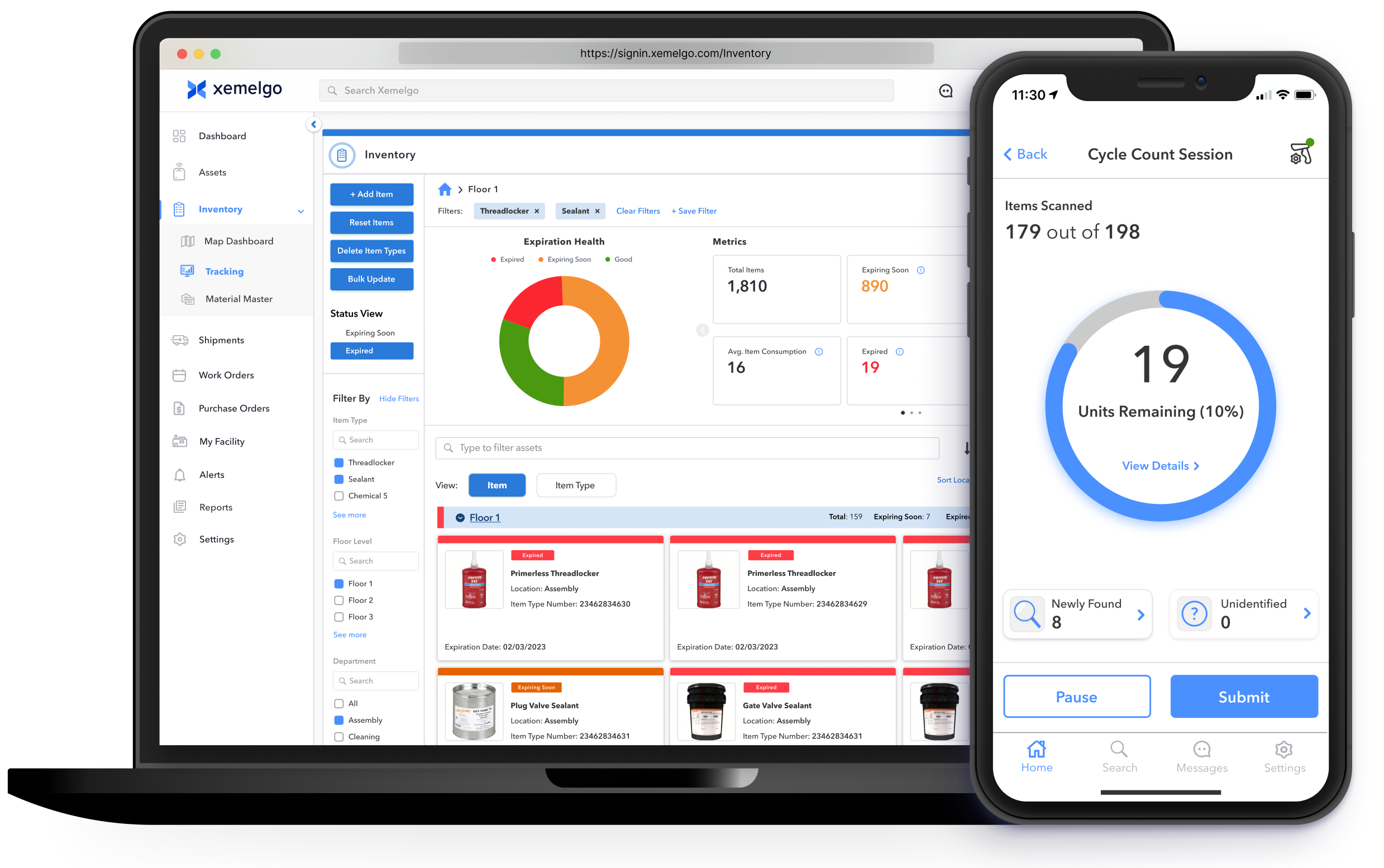 Automated Inventory Management
Track and manage inventory across your entire supply chain in real-time.
From raw materials to finished good

s

,

suppl

ie

s

,

and

more

,

Xemelgo's

"

Grab-and-

G

o

"

style

inventory

management

software

eliminates manual

cycle counting

,

automates transactions,

and alerts

your team

before

issues occur

.
The power of Xemelgo Software and RFID technology
Xemelgo automatically tracks inventory location and quantity with sensors, updates existing business systems using APIs, and empowers your team with mobile alerts and AI-powered insights.
Developed alongside
distributors,
manufacturers
,
and retailers,
Xemelgo's
cloud-based
inventory
management
solutio
n
is
infinitely scalable
, customizable
for a variety of use cases, and proven
inside and out
from warehouse to
showroom
.
Maximize Productivity
Empower your team with real-time data at their fingertips. Xemelgo's smart inventory solutions maximize the potential of your workforce by automating ERP transactions and eliminating manual counting, saving hours every day.
Keep Supply Ahead of Demand
Reduce the risk of stockouts with dramatically improved inventory accuracy, intelligent alerts on low stock and expired materials, real-time consumption data, automatic reordering, and more.
Minimize Waste and Risk
Receive intelligent alerts before inventory expires to mitigate compliance risk and reduce scrap.
Avoid Expedite Fees
Eliminate overnight and expedited fees with reliable stock replenishment. Xemelgo optimizes order volumes with replenishment recommendations based on historic and active demand at your sites.
Audit without Downtime
Streamline your physical inventory audits with lightning speed and accuracy. Quickly compare the information in your business system to what is actually on hand with zero downtime.
Maximum Visibility
Gain insight and improve supply chain and delivery performance with shared visibility. Share information with upstream suppliers, VMI and 3PL partners, downstream customers, and internal teams.
CASE STUDY
Xemelgo helped Hisco save 85% of time spent on inventory audits.
"

Hisco was looking for a touchless, automated solution for tracking inventory from the VMI tool crib to the manufacturing floor. Xemelgo and our RFID solution have paved the way for new opportunities making it easier for our customers to do business with Hisco.

"
— Nelson Picard, VP of Operations @ Hisco Inc.
Frequently Asked Questions
What are the advantages of RFID over barcoding for inventory management?
RFID can be used to read thousands of items in seconds, passively, without line-of-sight.
Imagine a simple storeroom or warehouse with 100+ item types and 25 of each item (2,500 total items). Now imagine taking physical inventory of each item with a barcode scanner… it'd take a team a weekend.
Unlike 1D or 2D barcodes, RFID labels can be facing the wrong direction, hidden, and several yards away and still be read. RFID labels can also be read in bulk.
Next, imagine trying to find one specific item amongst the 2,500 in the location… oh, and they all look the same. With barcodes, every item needs to be checked to find the exact one.
With RFID, missing items can be found in seconds using "search and find", and the exact location of every item is tracked passively.
Can Xemelgo integrate with existing ERP's and inventory systems?
Yes. Xemelgo is ERP-vendor agnostic and can be fully integrated with existing business systems, completely standalone, or somewhere in between.
When integrated, Xemelgo can even help your team automatically manage purchase orders as goods are consumed so you never stock out of critical materials and supplies.
When integrated, Xemelgo further complements your existing business systems with an intuitive user interface and real-time location and consumption data. Your ERP remains your single source of truth.
Learn More About our Inventory Management Solution