Improve productivity, manage proactively, and empower your team
Xemelgo uses RFID technology to give you real-time visibility into what is happening on the factory floor.
Automated Work Order Management for manufacturers.
Realize step-change improvements to operational efficiency by saving time, lowering the waterline on waste and inefficiencies, and empowering your team with real-time data.
Trusted by manufacturers from job shops to OEM's, Xemelgo's RFID Work-in-Progress Management solution brings visibility into the location, status, and priorities of work orders on the production floor.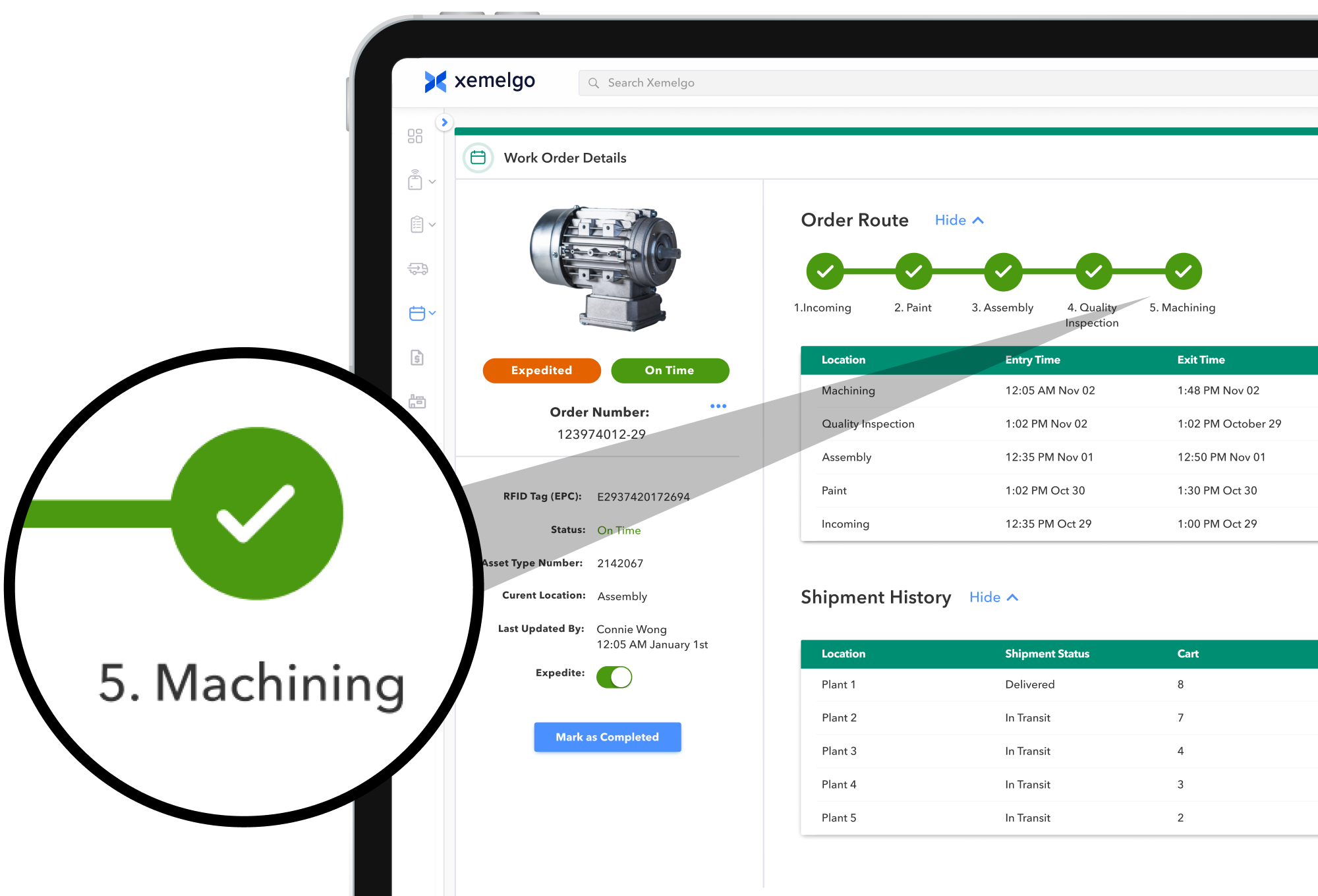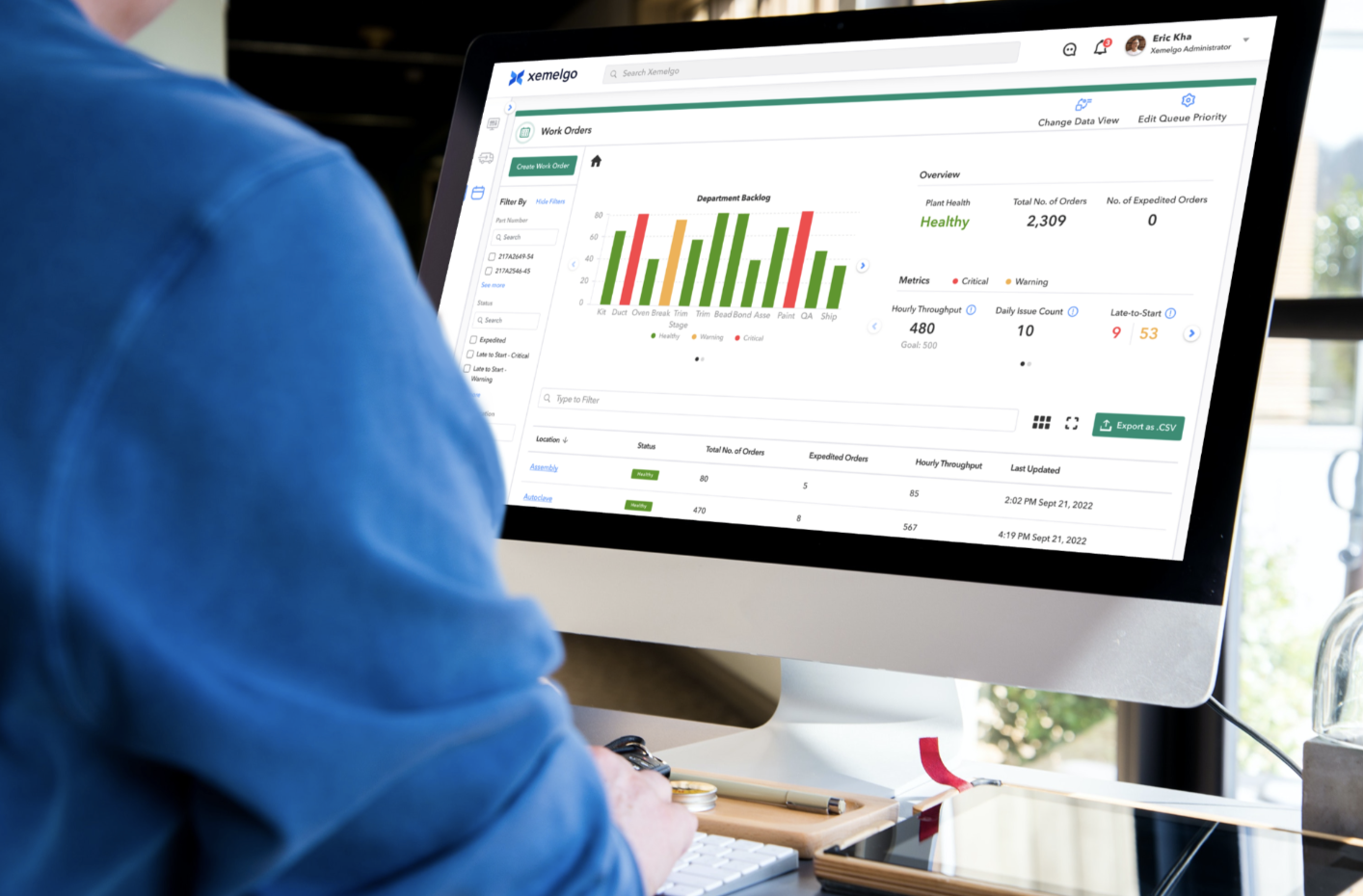 Track every job on the floor in real-time with RFID.
Xemelgo adds visibility and value within the first hours of deployment using low-cost RFID tags attached to every order, sensors on the floor, and powerful cloud-based software.
Xemelgo complements Lean methodologies and existing ERP systems with live
location tracking, visual workflows and map dashboards, AI-powered insights, real-time alerts, powerful reports, and more.
Unlock the true potential of RFID for Work Order Management
Boost Productivity
Save your team hours of daily manual data entry and reporting so operations teams can focus on what they do best.
Visualize your Factory
Live map dashboards provide Operations Leadership and Production Teams unprecedented visibility into work on the shop floor.
Maximize On Time Delivery
Automated alerts, smart rules, and live-queues help your team prioritize work to stay on top of expedites and ahead of due dates.
Locate Orders in Seconds
Locate orders in seconds. Eliminate hunting for missing work orders and hot jobs with live location tracking and mobile 'Search-and-Find'.
Eliminate Waste
Lower the waterline on process bottlenecks, hidden-factory rework, excess movement, idle orders, and more.
Make better decisions
Empower operations leaders and production team members with the data and insights needed to make decisions proactively.
CASE STUDY
How Sekisui Aerospace transformed their manufacturing operations with Xemelgo
"

SEKISUI looked for a partner to implement its vision for a paperless factory, the only company that was able to deliver on our vision was Xemelgo! We've been able to increase production, benefit from cost savings, all while staying compliant with regulations

"
— Julie Traweek, Sr. Manager @ Sekisui Aerospace
Frequently Asked Questions
What level of visibility is provided with RFID?
Xemelgo can tell you in exactly which building, department, and even which workbench a work order is at, when it arrived, and for how long it was there.
Most customers begin their RFID journey with a starter kit to deploy RFID readers at choke points and prominent zones within the facility. Handheld readers can then be used to pinpoint the exact location of work orders on the floor.
How are RFID tags used to track work orders?
If you're using paper job travelers today, the easiest way to get started is to apply an RFID tag to your existing paper work orders. If your facility is already paperless, kudos! – Temporary or permanent RFID tags can be applied directly to the part to complement existing labels.
Xemelgo and our best-in-class partners have helped customers tag and track their work in progress in all sorts of environments from ESD-safe clean rooms to machine shops.
Can Xemelgo integrate with existing ERP systems?
Absolutely, but it's not required. Xemelgo is ERP vendor agnostic and can be fully integrated with existing business systems, completely standalone, or somewhere in between.
Most Xemelgo customers recognize tremendous value immediately without with ERP integration. When integrated, Xemelgo further complements your existing business systems with an intuitive user interface and further automation of manual data entry, and your ERP remains your single source of truth.
How does RFID improve productivity on the shop floor?
What gets measured gets worked. Xemelgo empowers everyone from the plant manager to support staff and operators with unprecedented visibility into key priorities and department performance so they can manage and work proactively.
In addition to making work and process flow visible, Xemelgo has helped customers save countless hours of time spent searching for missing orders and hot jobs, eliminated manual data entry and report pulling, and reduced meeting time needed to manage production.